Assalamualaikum
I had done watching Bridge to Terabithia movie.
It's amazing ! hehe
Bridge to Terabithia
tells the story of Jess Aarons and Leslie Burke, ten-year-old neighbors who create a fantasy world called Terabithia and spend their free time together in an abandoned tree house.
And Jess like Leslie, cute litte couple..

Josh Hutcherson as Jess Aarons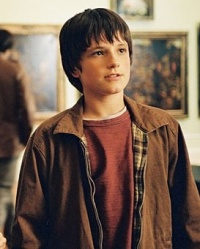 # he also acted in the film
Journey 2: The Mysterious Island
✖‿✖
#

AnnaSophia Robb
as
Leslie Burke
# she also acted in the film
Charlie and the Chocolate Factory
ʘ‿ʘ
yeah, hair full off gum #

♥ they looked like honey.. sweet
♥

and
Bailee Madison
as May Belle Aarons
# this litte also acted in the film
Phoebe in Wonderland
(。・ω・。)
#
I'm not satisfied with the ending of this story because Leslie died :(
Huhu they're cute when together , Jess and Leslie..